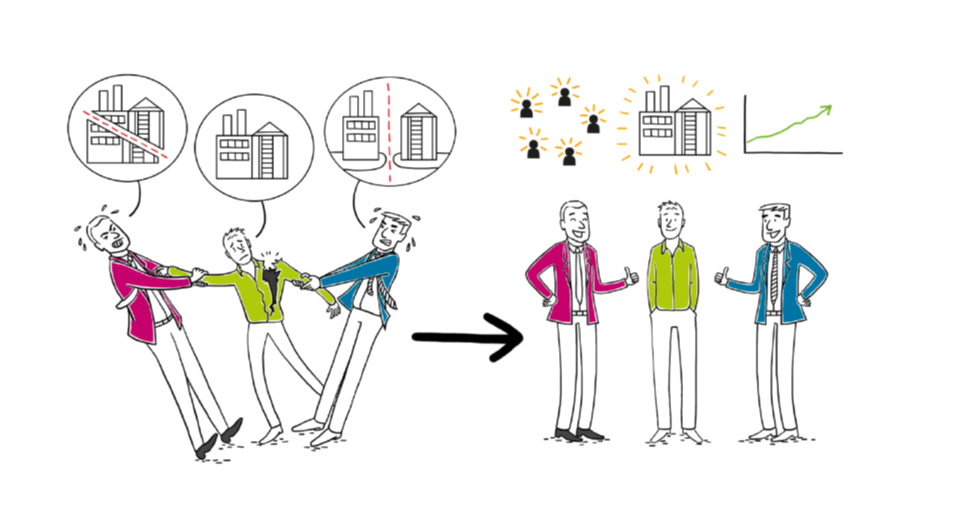 CLARIFY AND IMPLEMENT VISION #2
Olivier is the EMEA HR VP of an international industrial company. Our assignment takes place in a factory producing agricultural machinery. The plant is a significant source of employment in the area. The factory manager has on-boarded in a matrix organization comprising 2 product lines, each of them reporting to two different VP based in the USA. The factory manager has just on-boarded and must deal with 3 major difficulties: a matrix organization with contradictory interests, a competitive relationship between his two manager, a management committee that does not report to him but to functional line directors based abroad, the request for outsourcing a business line where two of the major industrial expertise would be outsourced, a request for more profits to meet the shareholders demands. In addition, the new plant director comes from the field. He must find the right posture.
The proposal made by SYNARGIES is threefold: a personalized coaching for the factory manager focused on on-boarding, posture and presence leadership, a relation coaching between the VP US of one of the product lines and the factory manager, and finally organization coaching for the factory to establish a shared and appreciative governance. Our goal is to neutralize the crippling effects of a top / down culture with a matrix organization and restore cooperation between VP and factory manager for efficient decision-making at the plant. We are aiming for an increase in the employees' engagement which is worn out by this operation model.
One year later, the plant manager feels much more comfortable with his hierarchy, has managed to maintain the factory's activity and reorganize into a visual factory. The teams are more engaged. They work in a project mode. They have found a level of engagement that allows them create problem solving task forces to manage crises. The VP and plant manager's relation now serve the factory and the group's interest rather than pure control.