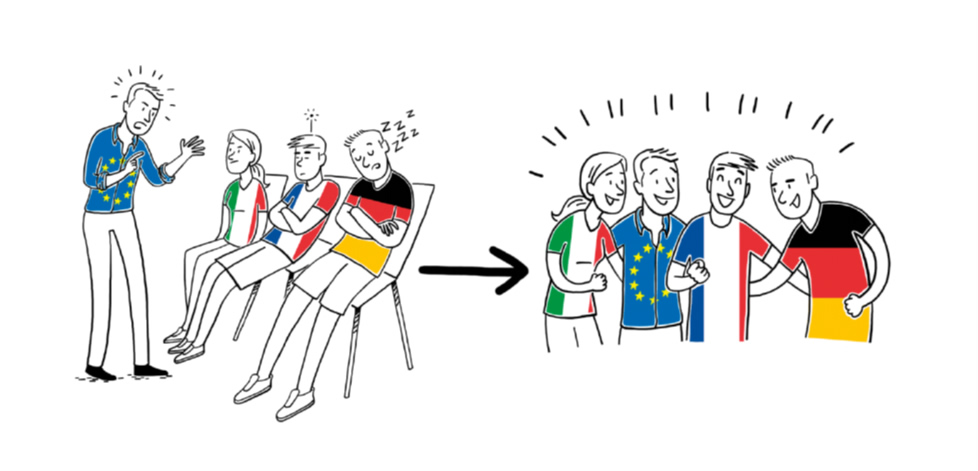 MOVE ON TO AGILITY, FLATTEN THE ORGANIZATION AND ENGAGE PEOPLE
Carole is the HR VP of a major sports brand. Her company has conducted an engagement survey that shows a downward trend in employees' engagement in her region. Since this engagement survey, the organization has changed a lot and a real uncertainty is emerging. 2 leaders within their country have left the company. The European organization's is increasingly influencing forcing new processes in. Countries feel that they are losing their autonomy. The results of this region are going down. Several key people within the region observing this phenomenon, are also on the leave, which destabilizes the teams' balance and enthusiasm.
To improve engagement in this context, we decided to set up project Teams. We proposed to operational managers to coach them with the support of 2 English and Spanish speaking coaches. Our initial goal is for these groups to make proposals to re-engage employees. Our intention in off, is that employees experience the satisfaction of being able to act on their company considering their market and the vision proposed by Europe.
O
our coaching showed that solutions could emerge from regions in order to improve their results. We also showed that the way to make them emerge contributed to employees' reengagement. Thus, thanks to this double impact, the region has been able to claim from Europe the opportunity to put in place a constructive relationship that nourishes their reflection and vice versa.
At the same time, coaching has made it possible to become an influencer pilot country with Europe. The Project team identified a pilot who presented the results of their work to the influencers we had identified once the influence mapping work had been done. The coaching techniques of the relational systems allowed to highlight and use the mechanisms to maintain a good level of commitment for the teams. The relationship coaching between Europe and France is about building a balanced relationship between the countries and the Europe headquarters by focusing not on the search for power but on the search for positive and co-constructed results.