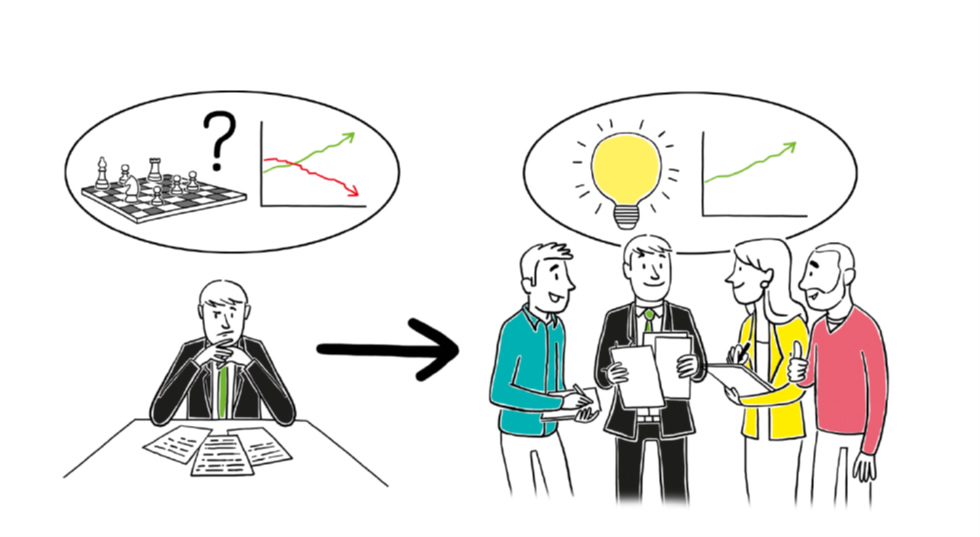 A SUCCESSFUL MANAGEMENT TEAM, WORKING WITH A CLEAR VISION
Her name is Laurence. As a HR VP, she is also a member of the executive committee of a French SME, a subsidiary of a Danish group in the health sector. She knows that from the point of view of her job, she can help be an improvement agent of team intelligence within the executive team; She can easily observe the relational games in place. She knows how much they can become an obstacle to the team's efficiency; she is also aware of the team's inspiring and change facilitator's role. She sees the opportunity to relieve the CEO who feels alone in the decision-making process.
She would like the team's members to trust each other; she is longing for more solidarity between members and vis-à-vis the CEO. She would like to comply with the exemplarity role vis-à-vis the managers. She is convinced that the team has potential. Working together and calling forth the performance of this team would really help in the current period. Market positioning is at stake, the company's commercial offer and customer experience would need a facelift, and they could benefit from a real impulse that would stimulate towards better financial results. If she can create this awareness, she remains convinced nevertheless that the neutrality of a coach, his/her awareness of the relational games, and his/her knowledge of the systemic aspects of a team could really help the executive team.
After having conducted an appreciative audit of the 8 members of the executive team, SYNARGIES has identified a strategic topic, that of customer loyalty. In a rapidly changing market where players are focusing, this topic may be a concrete base to clarify the vision, values, strategic priorities, goals and set up unifying projects within the company. SYNARGIES facilitated a 2-day workshop and coached the executive team over 7 months at a rate of 3 hours per month. In advance of each meeting, SYNARGIES reminded the importance of the preparation of each executive team meeting thus creating a reflex whose added value was quickly felt during the meetings. The team coaching was focused on the operating modes decided during the workshop (purpose and direction, values, metrics, team auto-facilitation). Coaching was also on the interaction modes, building solutions together and solidarity in decisions implementation. As often when coaching on a regular basis, executive members have become aware that meeting on a regular basis speeded up strategy implementation and alignment.
In addition, the Managing Director acknowledged that he felt supported by his team and stimulated in his strategic thinking.