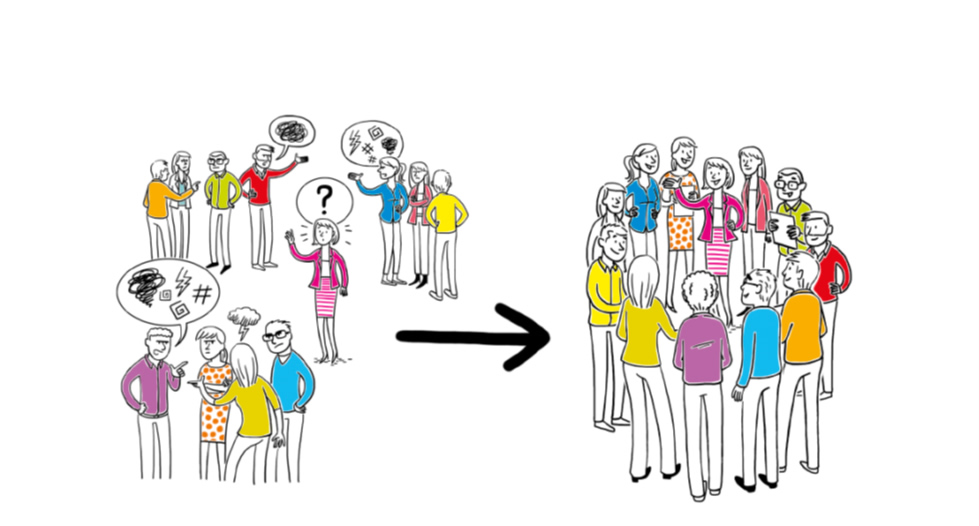 IMPROVE ORGANIZATION EFFICIENCY #2
Anaelle is manager of the training department. She asked us to organize training sessions on "broker posture" addressed to the claims officers' department. According to her request, this training course would allow employees to feel more confident and become more pro-active. This more adapted attitude would benefit the client who would be better informed and reassured. Our in-depth interview with the training department, the technical service director and 2 service managers involved in the operation of the technical service, gave us a rather different vision of what the "broker posture" would imply in terms of relations and behaviors if it were implemented. Therefore, we decided to make another proposal that involved three departments instead of one: there should be the technical, customer relation management and broking departments.
At the end of an appreciative audit made with a sample of people selected for their representativeness of the 3 departments, we formalized our proposal around organization effectiveness. We recommended and coached toward a one team operating model involving the 3 departments. We focused our attention on quality relationships and developing a customer centric culture. The "broker posture" thus became a homogeneous attitude on the part of a customer-centric team. Awareness was raised around the importance of customer satisfaction management.
By coaching in this way, we sent a constructive message to the whole and avoided the stigmatizing effect of a training whose target was the claims officers. The other goal was to allow everyone to question their way of being in the relationship and to improve relations between the 3 services thus improving organization effectiveness. This step also helped speed up the construction of this one team and make the "broker posture" sustainable.
Before the co-construction phase, the 40 participants discovered their process communication profile and were coached to more appropriate communication. Nathalie STEINBERG and Sabine MOREAU then facilitated and coached a one-day workshop designed to build the "broker posture" with its impact on the customers and the group, its rules for healthy relationships, its behavior in line with the group's values and its performance indicators. All participants were then invited to make a personal commitment to 1 to 3 actions to question their behavior and secure the commitment to the "broker posture" they had co-designed.
Some testimonials: "The first personal part was very relevant, and the second part allowed me to leave with operating keys on very difficult customers".
"We did everything alone and that's the whaow effect!! ".
"speaking in the affirmative form conditions customer relationship. It's very important beyond team spirit. "
"Everyone has the team spirit but the daily work damages it and this exercise shows that we are all on the same wavelength. This training is a real experience I highly recommend. It really shows how solidarity can protect quality relationships. "
"It will change us in our communication. "