Johann Entz Von Zerssen | GERMANY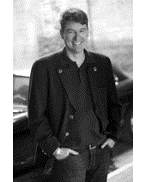 JOHANN ENTZ VON ZERSSEN:
Johann started his career in maritime transport in France. He continued his apprenticeship with Peter W. Lampke & co in Bremen. After several years of experience in the field of customer relations, sales and operations, he joined the subsidiary, Rickmers Linie of the HAPAG-LOYD group as head of department, in Bremen. In 1995, Johann became the brand representative in Montreal, Canada, in charge of opening the Canadian subsidiary. After this experience, Johann becomes a partner and VP in charge of the Apparel group's sales in Vancouver, Canada, a company specialized in the manufacture of professional clothing and uniforms.
A deep reflection on his real vocation led him to take a decisive turn to become a professional coach. He starts a certification course. It starts with co-active coaching with CTI. He then obtained the Master's degree in NLP at Erikson College in Vancouver, Canada. He trained in solutions-oriented consulting at Erickson College in Vancouver, and obtained certification in Systemic Coaching for Teams and Organizations in Canada at CRR GLOBAL. He is also certified professional coach (PCC) by the international organization of professional coaches. He trains himself in the communication process and becomes a trainer. He certifies himself in a potential development method and obtains his habilitation to Practice Circle Leadership.
He is also a Certified Team Evaluation Professional with Team Coaching International in San Rafael, Canada. He is finally authorized to administer the 360 ° profile and checkpoint as well as the HOGAN evaluations.
His areas of expertise are executive coaching, leadership development, organizational effectiveness, coaching managers, team coaching.
He works in sectors as varied as the pharmaceutical sector, chemistry, food industry, distribution, production and distribution, shipping, logistics, engineering, IT, banking, insurance , telemetry and communication, and the public sector.