Ann Betz | USA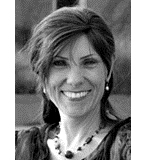 Anne has been with leaders for many years and helps them develop their leadership. Her specificity lies in her ability to mix her neuroscience research with her leadership coaching practice, her proven coaching skills, and ancient wisdom practices. She is passionate about the success of individuals and organizations. She has dedicated her life to the study, practice and sharing of methods to increase self-awareness and elevate it to a higher level.
Ann is an active member of the Supervisory Board to the CTI President in San Rafael, California. She is also the CTI's neuroscience advisor. She has written extensively on the brain and the practice of coaching as well as the links between the two. She has also co-authored with CTI's founder on active coaching and the power of this approach.
Anne was trained in coaching in 2001 and has since accompanied more than 250 people including leaders from Medtronic, Nestlé, Novartis, the American Medical System, Amicus Therapeutics and leaders of the social and solidarity economy. She has also been coaching Cargill's executives as part of a performance leadership development program since 2008.
Ann has developed programs to support the development of public speaking, effective leadership and the construction of high-performance teams. Ann is also a speaker on the topics of coaching, neuroscience and consciousness on the international scene.
Ann is co-founder and former head of the AMERICOACH association. She teaches and offers seminars around the world and works with women's associations in Costa Rica and Nepal. She teaches coaching, neuroscience and awareness in SINGAPORE, Turkey, London, Japan and Vancouver.